This morning I tried to move our VSTS (Visual Studio Team Services) account, from one Resource Group, to another. The reasoning of this is that all of our services that are used to managed everything else (i.e shared) are contained in one Resource Group.
I tried to move the Team Services account to another Resource Group and it seemed like it was working.
But I received this really unhelpful error: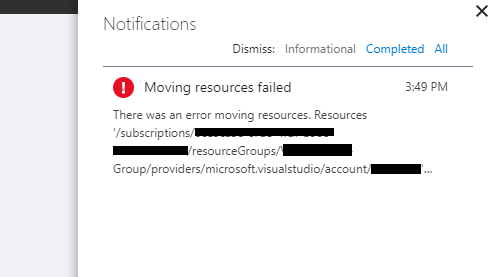 There was an error moving resources. Resources '/subscriptions/1111111-2222-3333-4444-55555555555/resourceGroups/ResourceGroupName/providers/microsoft.visualstudio/account/vsname' could not be moved. The tracking Id is '55555555-4444-3333-2222-111111111111111' (Code: ResourceMoveFailed) 
 
 <!DOCTYPE html>
 <html>
 <head>
 <title>Page not found.</title>
 <style type="text/css">
 body {
 font-family: "-apple-system",BlinkMacSystemFont,"Segoe UI",Roboto,"Helvetica Neue",Helvetica,Ubuntu,Arial,sans-serif,"Apple Color Emoji","Segoe UI Emoji","Segoe UI Symbol";
 font-size: 14px;
 height: 100%;
 margin: 0;
 }
 
 A {
 color: #007ACC;
 text-decoration: none;
 }
 A:hover {
 text-decoration: underline;
 }
 
 .header {
 background-color: #0078d7;
 color: #fff;
 height: 40px;
 font-size: 14px;
 }
 
 .header .logo {
 height: 20px;
 margin: 9px 5px 0 9px;
 }
 
 .header .product-name {
 vertical-align: top;
 padding-top: 10px;
 display: inline-block;
 }
 
 .content {
 margin-left: 15%;
 margin-right: 5%;
 }
 
 .error-summary {
 margin-bottom: 40px;
 }
 
 .error-code {
 display: inline-block;
 vertical-align: top;
 color: #777;
 font-size: 200px;
 line-height: 130px;
 margin-top: 60px;
 margin-right: 40px;
 }
 
 .error-details {
 display: inline-block;
 vertical-align: top;
 margin-top: 60px;
 max-width: 500px;
 }
 
 .error-details > h1 {
 font-size: 28px;
 margin: 0;
 text-transform:uppercase;
 font-weight:normal;
 }
 .error-details > h3 {
 text-transform: uppercase;
 font-size: 16px;
 }
 
 .error-details .action {
 font-size: 16px;
 }
 
 .error-details .action-text {
 vertical-align: middle;
 }
 
 .error-details > .helpful-links > a {
 margin-right: 10px;
 }
 
 .more-info {
 min-width:600px;
 }
 
 .more-info > pre {
 margin: 20px 0;
 white-space: pre-wrap;
 }
 
 .tips, .additionalDetails {
 min-width:500px;
 margin: 40px 0;
 }
 
 .tips > ul {
 list-style-type: square;
 }
 
 .tips > ul > li {
 margin-bottom: 10px;
 }
 
 .additionalDetails > h3 {
 font-size: 16px;
 font-weight: normal;
 }
 
 .additionalDetails .title {
 font-weight: bold;
 color: #444;
 }
 
 .additionalDetails .info {
 color: #777;
 }
 
 .additionalDetails > div {
 margin-top: 5px;
 margin-left: 20px;
 }
 </style>
 </head>
 <body> 
 <div class="header">
 <span><img class="logo" src="data:image/png;base64,iVBORw0KGgoAAAANSUhEUgAAABQAAAAUCAYAAACNiR0NAAAACXBIWXMAAA7EAAAOxAGVKw4bAAABMklEQVR4Xu3UrUtDYRTH8eeMweCGccF/YNFNNmw2NZpMiyYVtKhgEIsvYQwmGGwTTIOlLQgWwe5AxffgWzBZLJsYRMTHb/DCZduzHbzVH3w4cOD8ynO5pl+stSnswTOKxKDJDE4pHfpzIcc+FljswyCDE3bTvQqlrUQYY5hFHgnHXRXzIvIeukshFxQlsIonaPKILZRxjLfgICgsOw6/cI0KljCK5O8NOhPHFJ1z+MAVLnGOC9yICHt94tiFQYnjTRMxMXhQRF8YPf+F4yji01qbgWdIZBQN4BkWrzhDHdtYxCSG4ff6sKWtNMdoKD6lFl6Qdv0cwqV5Rg0Eet9Y7ngUEakzCjB4wK2irIkJbndcr7yBAzREJMtMY91Rfo8Ryo76PVISK132g1jDHQ7hh+9+AMwVLZmudBWFAAAAAElFTkSuQmCC" /></span>
 <span class="product-name">Visual Studio Team Services</span>
 </div>
 <div class="content">
 <div class="error-summary">
 <div class="error-code">404</div>
 <div class="error-details">
 <h1>Not Found</h1>
 
 <p>We could not find the requested page</p>
 
 <p><a class="action" href="https://azurecommerce.vssps.visualstudio.com/">
 <img border="0" style="margin-right:10px;vertical-align:middle" src="data:image/png;base64,iVBORw0KGgoAAAANSUhEUgAAABQAAAAUCAYAAACNiR0NAAABp0lEQVR42mJkcAFUUg+wdt9hHIfP/Z07ewvGWLNt1rZtm0Hd1bZtG8FVUDNGbdt92u36v5OdT/J84zd+t8ciepbKlOE93uYex9jHShZzm3xFHazNYFJYTgZHSOUdfqMkF+jKIiSlkl2cSVSnL8O4QcGm8zLdmMsfNONewYMTKMWPbCdRF+nCGlZzn6bEAo+qQW3Ks53/WzoVaUgNYoGnGURvMki2LfRjEM8EU4mnGE5UTzKF7YwhTsEG8wwVgynNUq4T1W06cpUWLOJJ8naVxZQL5iMySdRFirKC8qzlOfKWwefBvMExsvuQBxFuUJZH/cEWXiG7Y7wZTJz7JNtrvEB2dwnBHOMNsttHSoSnWM6j9vAjh8nuLU4Ec5CvSNSzrKAcWfzCKfL2NTuDWUllniSqp5nDN6zlTy6St6eowspgFhBoQlQ3Kc+rlOQ6BWtFYH4wN+jCQD4j2b6gN525HmLSTJawOsmjP7KehcwkFsiuARvIoC1P8l89R0+2spyGJHywA4mzkgyOkcpb/EpJztGdRYk/tvQMZXjkE94izgmyWMUjt8nXQ4uLbK++p3bRAAAAAElFTkSuQmCC" /><span class="action-text">Go back home</span>
 </a></p>
 
 <p class="helpful-links">
 <a href="https://go.microsoft.com/fwlink/?LinkID=242573&amp;clcid=409" target="_blank">Service Status and Support</a>
 <a href="https://www.twitter.com/VSTS" target="_blank">@VSTS</a>
 </p>
 </div>
 </div>
 
 
 <div class="more-info">
 <h3>More information about this error</h3>
 <p>Page not found.</p>
 
 
 </div>
 
 <div class="tips">
 <h3>Here are some additional tips</h3>
 <ul>
 
 <li>Verify the URL you are trying to access is correct</li>
 
 </ul>
 </div>
 
 <div class="additionalDetails" >
 <h3>Additional technical details:</h3>
 <div>
 <span class="title">Activity ID:</span> 
 <span class="info">1111111111111-4122-2222-222222222</span>
 </div>
 <div>
 <span class="title">Date and Time:</span> 
 <span class="info">2/15/2018 3:48:03 PM (UTC)</span>
 </div>
 </div>
 
 </div>
 <script src="/_static/3rdParty/_scripts/jquery-2.1.1.min.js"></script>
 <script type="text/javascript">
 var ciEventUrl = "";
 $(document).ready(function () {
 logAuthErrorCIEvent();
 });
 
 function getError() {
 return "eyJVcmkiOiJodHRwczovL2F6dXJlY29tbWVyY2UudnNzcHMudmlzdWFsc3R1ZGlvLmNvbTo0NDMvX2FyZWFzL2NvbW1lcmNlQ3NtVjIvc3Vic2NyaXB0aW9ucy8wY2U1Y2EzYy1jN2FlLTRmZGYtYjkwYy1hMzFlMjhmOTU1MzUvcmVzb3VyY2VHcm91cHMvVlMtc2FmZXRvbmV0LUdyb3VwL21vdmVSZXNvdXJjZXM/YXBpLXZlcnNpb249MjAxNC0wNC0wMS1wcmV2aWV3IiwiU3RhdHVzQ29kZSI6NDA0LCJNZXNzYWdlIjoiUGFnZSBub3QgZm91bmQuIiwiRGV0YWlscyI6IiIsIkNvbnRlbnQiOm51bGwsIklkZW50aXR5IjoiTWljcm9zb2Z0LlZpc3VhbFN0dWRpby5TZXJ2aWNlcy5SREZFIn0=";
 }
 
 try {
 if (typeof window.external !== "undefined" && typeof window.external.notifyError !== "undefined") {
 window.external.notifyError(getError());
 }
 else if (typeof window.notifyError !== "undefined") {
 window.notifyError(getError());
 }
 }
 catch (x) {
 document.write("<p>" + x + "</p>");
 }
 
 function logAuthErrorCIEvent() {
 if (typeof ciEventUrl != 'undefined') {
 $.ajax({
 url: ciEventUrl,
 timeout: 1000
 });
 }
 }
 </script>
 </body>
 </html>
 
 
 (Code: BadRequest)

I tried this a few times, and finally contacted Azure support.
Unfortuantly they replied with the following:
Unfortunately, we can't move resource groups for VSTS. This feature is in engineering team's backlog and I don't have a timeline on it.

If you have any questions or concerns, please let me know.
Conclusion
So, there you go. I'm really sorry if you found this looking for a solution. It's not currently possible. I will update if/when this is possible.
Happy Thursday!